Pahit Pink Gin
Regular price $108 SGD
The Pink Gin was first popularised by the British Royal Navy as a remedy for sea sickness in colonial Malaya. A mix of Gin and Bitters, it soon became known in the region as Gin Pahit – Pahit translates to "bitter" in Malay.
The Brass Lion Pahit Pink Gin is a take on this classic drink with a distinctively Singaporean twist. Our house-made Brass Lion Singapore Bitters, together with The Singapore Dry Gin results in a full-bodied spiced gin – best sipped on the rocks or paired with ginger ale.


Allow 5 working days for delivery. 

Pahit Pink Gin
Regular price $108 SGD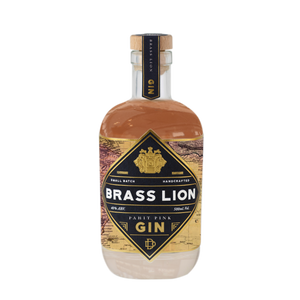 Tasting notes

Familiar impressions of holiday spice



| | |
| --- | --- |
| Nose | Warm, citrus notes |
| Palate | Robust with cinnamon and spice, with noticeable citrus sparks from mandarin orange peels |
| Finish | Light sweetness from red dates, with a lingering spice from ginger |
| | |
| --- | --- |
| Bottle size | 500ml  |
| Recommended mixer | Ginger Beer / Ginger Ale |
| Recommended garnish | Orange peel |